SUMMARY
On Thursday, September 5, the Iowa Bacon Board descended upon Iceland for the third year in a row to co-host the 2nd Annual Reykjavik Bacon Festival.  The open-air event was held on Saturday, September 7 and attracted over 15,000 Icelanders to historic Skólavörðustígur in downtown Reykjavik.  The festival offered over two tons of bacon, several pallets of beer, live music and a variety of bacon-inspired delicacies by the region's most prized chefs.
Armed with Templeton Rye Whiskey, trays of bacon, and a gift from Iowa Governor Terry Branstad, the Iowa Bacon Board and their Icelandic counterparts were received and welcomed by Prime Minister Sigmundur Davíð Gunnlaugsson and U.S. Ambassador Luis E. Arreaga.  Chair of the Iowa Bacon Board, Brooks Reynolds spoke of the experience, "On the heels of his meeting with President Obama and leaders of Nordic countries, it was a true honor to be welcomed by Prime Minister Gunnlaugsson."  Reynolds continued, "The Prime Minister acknowledged the importance of international bacon fellowship and praised all of us in spreading peace, joy and love – albeit in our own unique way.  OHHHH, BACON!"
The Reykjavik Bacon Festival, now the fastest growing food festival in Iceland, has not only been embraced by the country's leader, it has also made a positive impact on Iceland's economy and the city of Reykjavik.  The "bacon effect" was most felt by Iceland's leading bacon purveyor, Ali Meats, which attributes its 40% bump in year-over-year bacon revenues to the excitement surrounding the festival.  But, the bacon doesn't stop there.  Director of Visit Reykjavik, Einar Bárðarson, called the festival a "sizzling success", and said "it showcased our restaurant scene in a way never done before and has earned a top spot on the official Reykjavik festival calendar."  In addition to increased bacon sales and restaurant promotion the festival has also benefited the community as a whole.  The National University Hospital of Iceland was the benefactor of festival proceeds, which will be used to purchase much needed medical equipment and supplies.
When asked what is next for international bacon fellowship initiatives, Reynolds responded, "Iceland has largely surpassed our expectations and its people are well on their way to total bacon enlightenment.  So, together with our new Icelandic Bacon Brothers, we've decided to focus our energy on another region in need of our help.  Where?  Bacon-lovers will just have to wait and see."
VIDEO
 To kick-off the festivities, the Reykjavik Men's Choir performed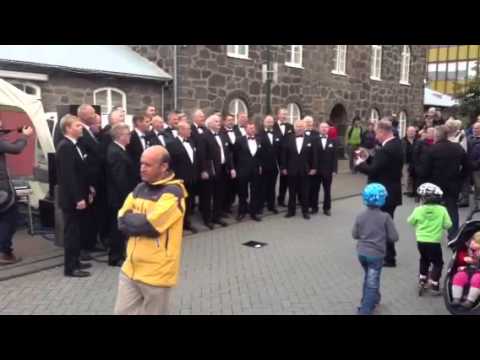 PHOTOS